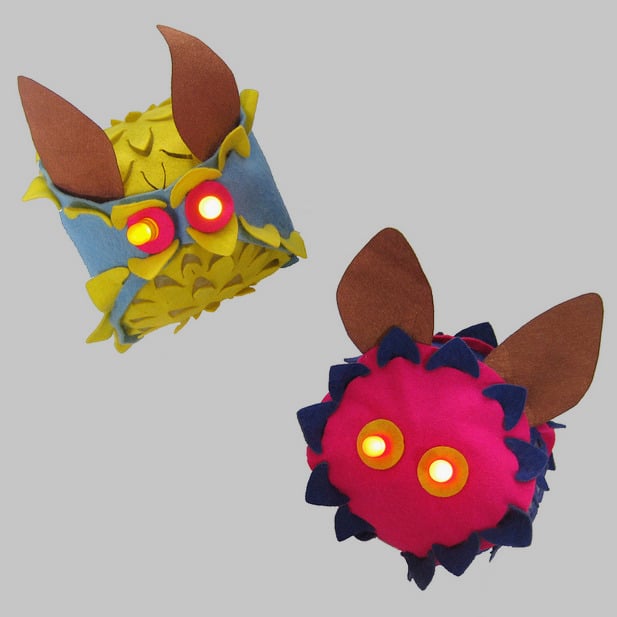 ZIPPY KIT smart textiles learning kit
£

16.00
---
---
An educational textile electronics toy developed for ZippyKit. It Includes everything you need to build your own 'Loopin'.
*optional batteries included


The finished creature's eyes light up when their smart soft ears are touched together, or to the ears of another Loopin. The kit can be configured in one of two ways, so that you can have two characters in one! make the happy or the grumpy Loopin as many times as you wish while learning the circuitry.
Loopin provides a fun and accessible introduction to electronics, for both boys and girls, and is also a great, hands-on craft project, to be enjoyed by all the family.
Technical details
Dimensions in cm
Finished diameter: 14cm
Packaging: 18 x 8 x 4cm
Materials
Common felt
Smart felt ears
LED lighting
*Batteries included
Caring instructions
Avoid contact with water specially once batteries have being placed inside
Acknowledgments
Concept
Elena corchero
Design
Elena Corchero
Technology
Richard Wilson
Crafted in
UK

Retail
Saatchi Gallery London
Magma Books London and Manchester
Please contact our retail department if you would like to stock this product or suggest your favorite store to us.
News
Release date: 2005-09-10 00:00:00
Contact us for the educational discount if you wish to deliver workshops at your school. Worldwide.
Check out our workshops at schools and science festivals at Flickr:
http://www.flickr.com/photos/zippykit/